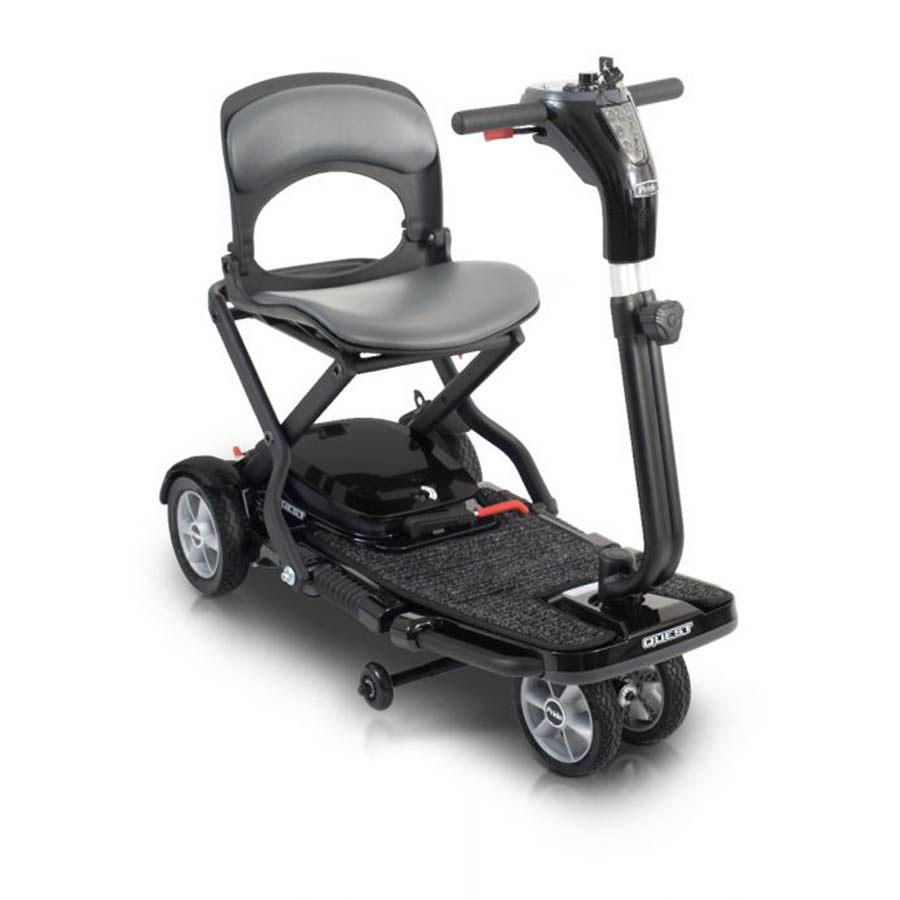 Quest
Range up to 20 km
Up to 6,4 km/h
22 kg
MDR Class I (2017/745/EU) Medical Device
The ultimate compact, foldable travel scooter
Ready for transport and easily folded, the 4-wheel Quest Folding Scooter is perfect for the active lifestyle. Offering great performance indoors and out at a maximum speed of 6,4 km/h and a range per charge of up to 20 km, the Quest Folding Scooter provides a comfortable and convenient ride. It is a super portable space saver that adjusts to fit perfectly inside any closet, corner vehicle trunk. The Quest is sleek, stylish, and extremely easy to operate, making it the perfect travel mobility scooter choice.
The Quest blends all the things that make mobility and travel play well together. It's comfortable, stable, and, perhaps best of all, highly portable. Without the battery, it weighs 23 kg and folds to dimensions of 686 mm tall, 483 mm wide, and 457 mm deep.
Take your scooter on a train
Sure, it might fold up in three simple steps for easy stowing on boats, planes, and trains, but we here at Pride Mobility designed the Quest Folding Scooter with the same quality construction and attention to detail in all of our mobility scooters. So you can depend on it for daily use. Count on the Quest Folding Scooter for trips to the supermarket or quiet strolls through the park.
Up to 20 km of battery life
With top speeds up to 6,4 km/h, and a battery that lasts up to 21 km, you might find yourself flipping on the LED headlights at dusk whilst exploring the area on your holiday address!
Specifications
Weight capacity
113 kg
Seat: Type/size
Fish-on 40 cm
Drive wheel
8"
Front caster (wheel)
7"
Rear caster (anti-tipper)
Yes
Max speed
6,4 km/h
Battery specifications
Quantity: 1 + 1 spare
Type: Lithium battery
Range
20 km (Lithium) / 15 km (Lead acid)
Charger type
2.5Amp, 110/240 Volt, Li-ION
Controller type
S-drive 45AMP
Motor type
4-Pole 270W
Weight with battery
25,6 kg
Weight without battery
22 kg
Turning radius
820 mm
Suspension
INDEGO SUSPENSION
Length
930 mm
Width
485 mm
Height
945 mm
Folded Dimensions
750 x 485 x 450 mm
Seat width
410 mm
Seat height
320 mm
Seat depth
330 mm
Back height
360 mm
Wheel base
695 mm
Ground clearance
60 mm
Footrests
420 mm
Overview
Download our
product brochure
Download our product brochure here to get an overview of our product range!
Features
Unique folding design
Folds in just three easy steps
Adjustable tiller
Up to 20 km range per charge
Easy to transport at home, hotels, or airports
Can be stowed upright or laid down
Articulated front end adds greater stability
Front and rear LED lights