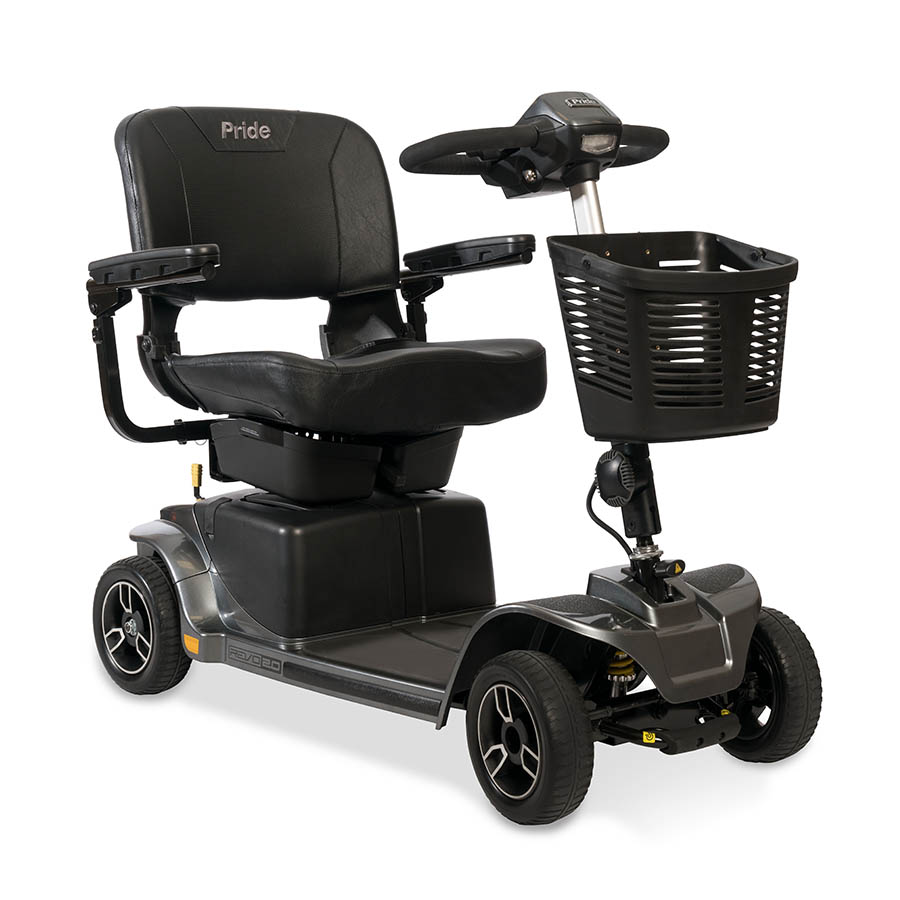 Revo 2.0
Range up to 29 km
Up to 8,4 km/h
59,8 kg
MDR Class I (2017/745/EU) Medical Device
Rugged with feather-touch disassembly
Experience the Revo 2.0, a rugged scooter that combines an array of features into one great package. Tough and built to last, the Revo 2.0 offers the rugged dependability you expect from luxury mid-size scooters. Comfort-Trac Suspension (CTS) ensures a smooth and comfortable ride over varied terrain. Experience convenient, feather-touch disassembly for portability that is comparable to our Travel Mobility line. Enjoy standard under-seat storage and speeds up to 8 km/h.
Ride on with the Revo 2.0!
Specifications
Model number
3W: S66
4W: S67
Weight capacity
181 kg
Maximum speed
8,4 km/h
Ground clearance
32 mm
Turning radius
3-wheel: 1016 mm
4-wheel: 1323 mm
Length
3-wheel: 1167 mm
4-wheel: 1194 mm
Width
525 mm
Tires
3-wheel: Front: 8" solid, pneumatic
4-wheel: Front: 9" solid, pneumatic
3- and 4-wheel: Rear: 9" solid, pneumatic
Range per charge
Up to 28 km
Weight without batteries
3-wheel: 54,25 kg
4-wheel: 59,75 kg
Standard seating
Type: Foldable plastic
Material: Black Vinyl
Width: 508 mm - 432 mm
Depth: 457 mm - 432 mm
Weight: 12 kg
Drive System
Rear-wheel drive, sealed transaxle, 24-volt DC motor
Dual Braking System
Regenerative and electromechanical
Batteries
Quantity: 2
Type: Sealed lead-acid, deep cycle
Size: 35 Ah
Weight batteries
10 kg
Overview
Download our
product brochure
Download our product brochure here to get an overview of our product range!
Features
Comfort-Trac front and rear suspension
Durable and stylish rear bumper
Easily accessible tie-down points (for the transport of unoccupied scooter)
Easily adjustable tiller
Easily charge the batteries on or off the unit
Pride's exclusive black, flat-free, non-scuffing tires
Seat designed for extreme comfort
Standard front basket
Standard under-seat storage
Ultra heavy-duty drivetrain with
70 amp controller
User-friendly console
USB mobile device charging port