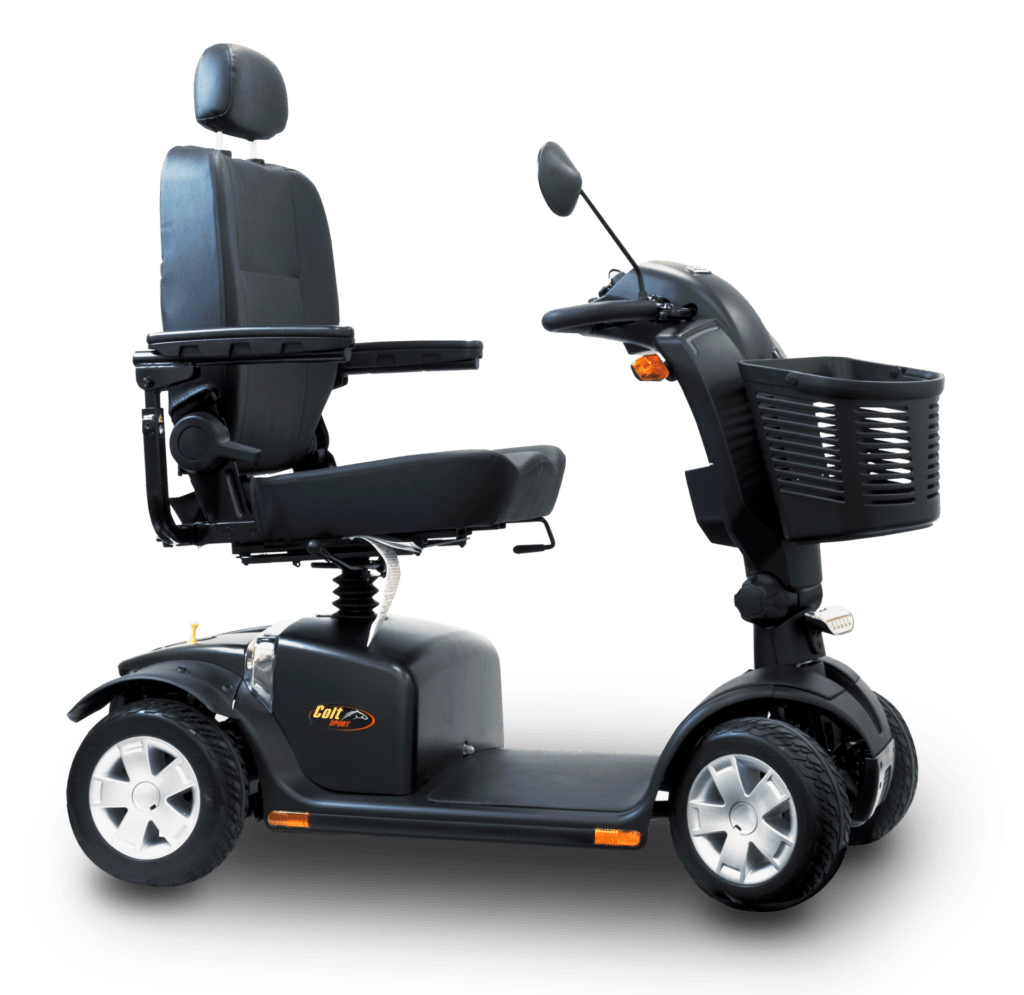 Colt Sport
Sporty Style with advanced comfort
The all new Colt Sport is fully loaded with sporty style and advanced features, including a DX Tiller, LED headlights and an advanced suspension seat post as well as an all new memory foam adjustable seat.
Drive at speeds up to 12.9 km/h and see what life has in store for you!
Specifications
Weight Capacity
159 kg
Maximum Speed
2.9 km/h
Ground Clearance
57mm (2.25")
Overall Length
1194 mm (47")
Overall Width
657 mm (26")
Turning Radius
1334 mm (52.5")
Standard Controls
LED Display
Heaviest Piece when disassembled
29.75 kg
Total weight without batteries
68 kg
Seating
Memory foam - High-back, fold-flat seat with headrest
Tyres
Front: 254mm (10") Solid or Pneumatic
Rear: 254mm (10") Solid or Pneumatic
Suspension
Front and Rear
Battery Requirements
2 x 40 Ah Deep Cycle
Battery Weight
11 kg
Note
1. Due to manufacturing tolerances and continual product improvement, this specification can be subject to a variance of + or - 3 %.
2. Specification varies with user weight, terrain, battery type, battery condition and tire pressure.
3. Battery weight may vary based on manufacturer. Tested in accordance with ANSI/RESNA, WC Vol. 2, Section 4 and ISO 7176-4 standards. Results derived from theoretical calculations based on battery specifications and drive system performance. Testing conducted at maximum weight capacities. This specification can be subject to a variance of +10%, -5%. The information contained herein is correct at the time of publication; we reserve the right to alter specifications without prior notice.
Overview
Download our
product brochure
Download our product brochure here to get an overview of our product range!
Features
Smooth Ride – Front and rear suspension for optimal outdoor driving on various terrains
Suspension Seat Post
Comfortable Seating – Memory foam adjustable seat
Full Lighting Package – High-Intensity LED headlight offers optimal pathway illumination including directional signals leg room.
DX Tiller
10" Alloy Style Pneumatic or solid tyres (solid tyres only available in black)