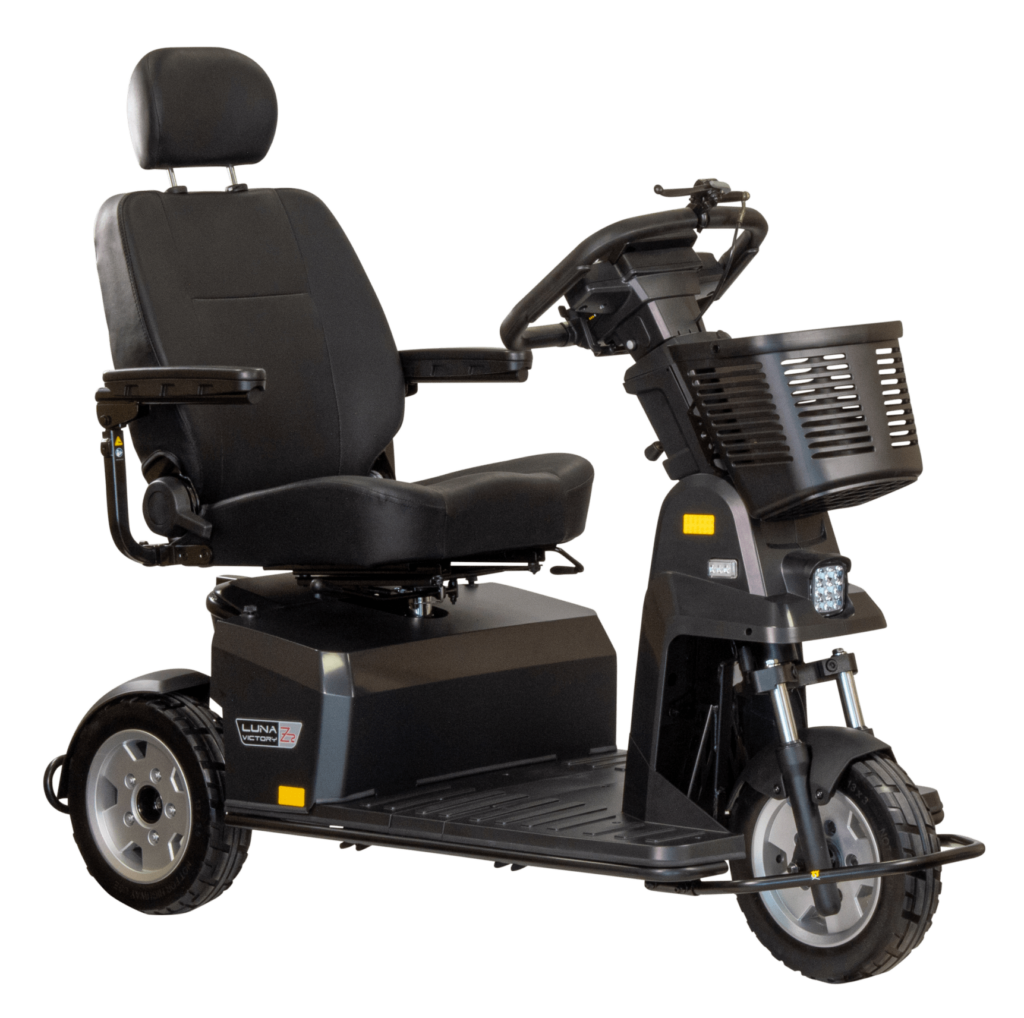 Luna Z
Range up to 43,5 km
Up to 15 km/h
113 kg
MDR Class I (2017/745/EU) Medical Device
A modular scooter that's ready for the future
Our all new Luna Z is ready for the future; with its extremely high durability and premium quality this is the scooter that can and will fit all your needs. Designed for a 10-year life cycle, this commercial-grade quality scooter is exceptionally reliable. This state-of-the-art scooter offers maximum flexibility; with different configurations to match exactly what the end-user needs. The modularity combined with low maintenance forms the perfect scooter for a fleet owner.
Specifications
Model
Luna Victory Z1
Luna Victory Z2
Luna Victory Z3
Model Number(s)
Z1: SC123
Z2: SC133
Z3: SC143
Weight capacity
159 kg
Maximum speed
Up to 15 km/h
Ground clearance
90 mm at motor
Turning radius
1257 mm
Length
1425 mm
Width
670 mm
Tires
13" pneumatic or solid, front and back
Drive system
Rear-wheel drive, sealed transaxle, 24-volt DC motor
Braking System
Regenerative and electromechanical
Range per charge
Up to 43,5
Standard seat
Type: High Back
Material: Black Vinyl
Battery Requirement(s)
Quantity: 2
Type: Sealed lead-acid, deep cycle
Size: 50 or 75 Ah
Battery charger
Up to 8 Amp, off-board
Overview
Download our
product brochure
Download our product brochure here to get an overview of our product range!
Features
Maximum configuration flexibility
Designed to maximize longevity
Comfortable dual suspension
Optimized for reconditioning
Maximum speed can be set between
10, 12 and 15 km/h, without programming
Front basket standard
Push pull or gas throttle lever
99% of all maintenance can be carried out within 20 minutes
Protective bumpers all-round
Motor protection program
Connected Data Monitoring (optional)
Steering wheel with push-pull lever or gas throttle switches