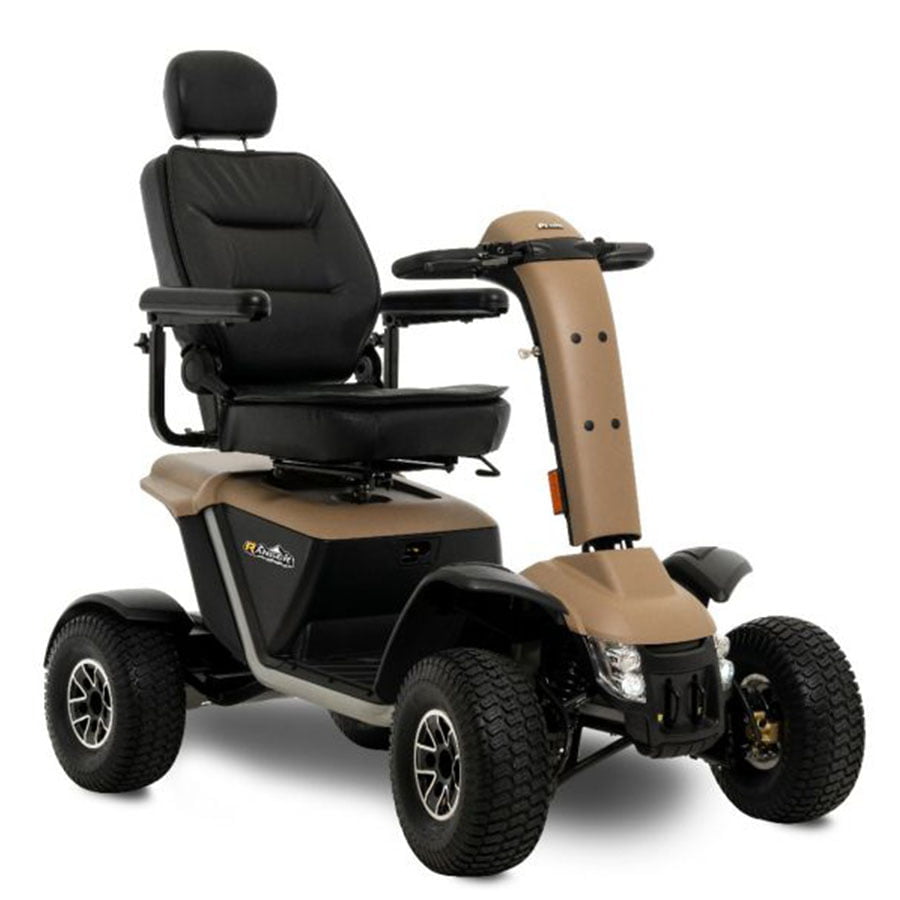 Ranger
Range up to 47,2 km
Up to 15 km/h
124,3 kg
MDR Class I (2017/745/EU) Medical Device

Outdoor adventure awaits!
Rugged and built to last; the Ranger is everything you want in an outdoor scooter! Equipped with front and rear suspension, this aggressive scooter is designed for cruising on walking trails or driving around your property. Enjoy total visibility with complete LED lighting. With a user-friendly console and dual hydraulic brakes for added safety, the Ranger is the perfect way to embrace life in the great outdoors!
Feel the crisp, fresh air, smell the blossoms on the trees and enjoy the peaceful serenity of the outdoors. Your adventure awaits, and nothing stands in your way. Forge a new path with the Ranger, an aggressive, outdoor scooter designed for extreme and rugged conditions. With its powerful suspension, bright lighting, and dual hydraulic brakes, this beast of a scooter is a powerful force.
Go where no mobility scooter has gone before
Your Ranger outdoor mobility scooter adventure starts when you plant the first tomato seedlings in the sunny patch beyond the barn. It starts when you can take the grandkids up the road to the secret pond where you caught frogs as a child. It's the moment you notice untouched destinations coming into focus aboard our toughest outdoor mobility scooter yet.
The wild is calling
Let's start on the ground, where 14,5" tubeless pneumatic tires raise you up over previously impassable obstacles. Sturdy front and rear suspension keep you sailing smoothly over uneven terrain, with powerful twin motors cranking out 7,7 peak horsepower at the rear wheels.
The next-generation Ranger features a 159 kg weight capacity, speeds up to 15 km/h, and a range that takes you out for the long haul – up to 38,4 km per battery charge. Like any good all-terrain vehicle, we built the Ranger with your adventurous lifestyle in mind.
Discover your next adventure
What will you be conquering today with the Ranger? Dominate uneven terrain with this great outdoor mobility scooter that provides superior front and rear suspension with adjustable shocks, for greater comfort as you glide over dirt, gravel, grass, pavement, trails, paths, and mud. The Ranger is equipped with 14.5" tubeless pneumatic tires to absorb unevenness from the terrain underneath you. This provides a smoother, better ground grip, with less friction between the tire and road. It is equipped with 7.7 peak HP dual motors, to boldly go wherever you choose to take it. This powerful feature provides agility and better handling when it comes to meeting every rider's need and style.
Light your way in rugged style
The full LED lighting package includes headlights, hazard lights, a rear backup sensor LED light, and directional signals.
The adjustable delta tiller provides you with ergonomic wraparound handles for a comfortable grip. Easily visible from the top of the delta tiller, you can navigate your way in every situation with the LED console. The display provides you with miles driven, trips taken, temperature, and time. Form meets function with the USB charger port conveniently located midway down the delta tiller. It provides convenience and safely keeps your smartphone fully charged anywhere you go.
Safety is always top of mind when we design features for our products and the hydraulic hand brake is at the top of the list. This hand brake allows you to make split-second stops to keep you safe in those unpredictable occasions.
Specifications
Product number
MV600
Weight capacity
159 kg
Max. speed
Up to 15 km/h
Turning radius
2407 mm
Ground clearance
140 mm
Length
1556 mm
Width
829 mm
Tires
14,5"
Range per Charge
Up to 32,1 km at 159 kg
Up to 38,4 km at 100 kg
Total weight without batteries
124,25 kg
Heaviest piece when disassembled
99,25 kg
Standard seating
Type: Pillow Top Limited Recline
Weight: 22 kg
Material: Black Vinyl
Width: 457 mm
Depth: 419 mm
Drive system
Rear-wheel drive, Dual Inline, 24-volt DC motor
Dual Braking System
Regenerative and electromechanical
Battery requirements
Quantity: 2
Type: Sealed lead-acid, deep cycle
Size: 75 or 100 Ah
Battery weight
75 Ah: 24,4 kg
100 Ah: 26 kg
Charger
5 or 8 Amp off-board
Overview
Download our
product brochure
Download our product brochure here to get an overview of our product range!
Features
User-friendly LED console displays time, temperature, miles driven and trips taken
Adjustable delta tiller with ergonomic, wraparound handles
USB charger built into the tiller for convenient charging of smartphones and portable devices
Durable and stylish rear bumper
Easily accessible tie-down points (for transport of unoccupied scooter)
Full LED lighting package includes headlights, hazard lights, rear backup sensor LED lights and directional signals
XLR charging port on tiller
Hydraulic hand brake