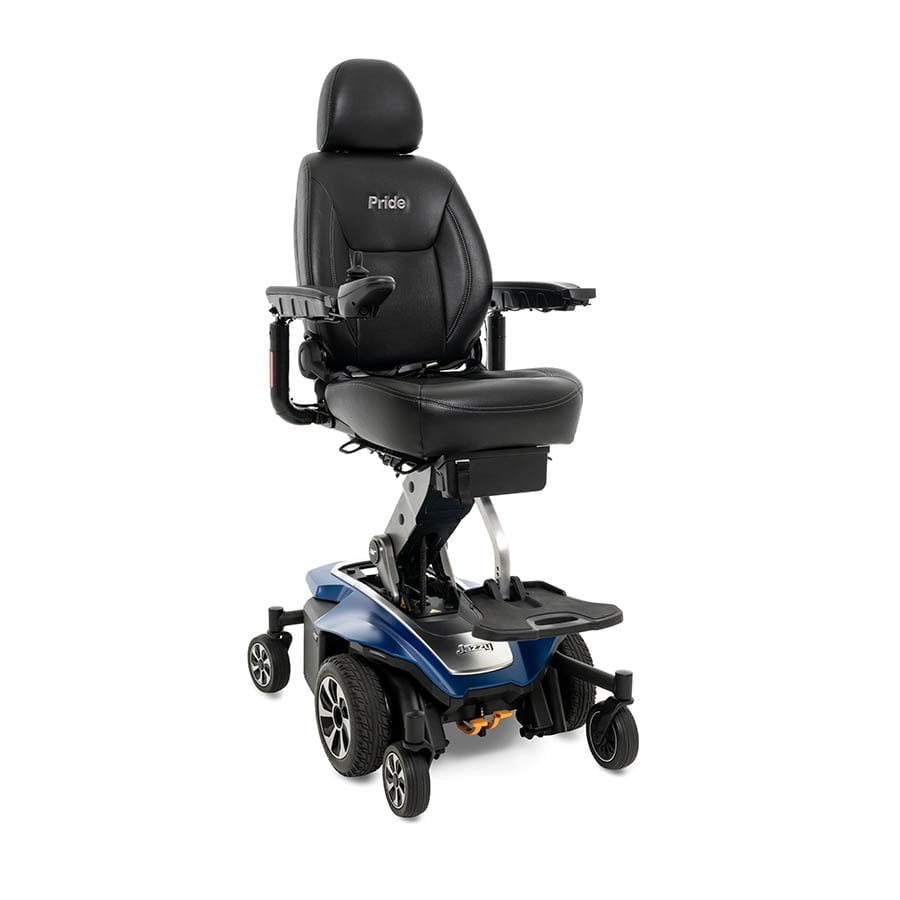 Jazzy Air 2
Range up to 26,7 km
Up to 6,4 km/h
81,5 kg
MDR Class I (2017/745/EU) Medical Device
Experience living your life at new heights
First impressions happen only once, and the engineers at Pride Mobility considered all the ones you make when they designed the Jazzy Air® 2.
Featuring a captain's chair seat that elevates up to 305 mm, lifting you eye to eye during a conversation. Accelerate your power chair safely, up to 6,4 km/h, in the elevated position, so you can move about your day shoulder to shoulder with your peers. Beyond the clear personal advantage, the Jazzy Air® 2 offers functional benefits. Countertops and cabinets, clothing racks, and upper shelves at the supermarket suddenly enter your realm of reach.
The Jazzy Air 2 has a weight capacity of up to 136 pounds and a maximum battery life that powers you along for up to 30,8 km miles on a single charge.
A power chair for both the corporate go-getter and busy homemaker
Exclusive Mid-Wheel 6®  Technology and Active-Trac Suspension provide enhanced performance and maximum stability indoors and out in the open air. Streamlined controls let you adjust your height to full reach in just 11 seconds.
So, whether you're public speaking at a podium or setting the dinner table for pizza night, you can rest assured you'll be at the right height.
Pride went a little "extra" with standard features that include brilliant LED floor lights to illuminate the path in front of you. The captain's chair reclines and armrests adjust in and out for a truly customizable comfort experience. You may also choose from a number of seat sizes to ensure your Jazzy Air 2 power chair fits you.
Specifications
Weight capacity
136 kg
Turning radius
616 mm
Max. speed
Up to 6,4 km/h
Length
1067 mm
Width
590 mm
Tires
Drive wheels: 10" solid
Caster wheels: 6" flat free
Range per charge
Up to 24,1 km at 136 kg
Up to 26,7 km at 100 kg
Base weight (without batteries)
81,5 kg
Drive System
2 motor, mid-wheel-6 drive
Dual Braking System
Intelligent brakes (electronic regenerative, disc park brake)
Batteries
Quantity: 2
Type: Sealed lead-acid, deep cycle
Size: 35 or 40 Ah
Battery weight
35 Ah: 14,5 kg
40 Ah: 13,75 kg
Charger
5 amp, external
Overview
Download our
product brochure
Download our product brochure here to get an overview of our product range!
Features
High-back or solid seat pan, reclining sport seat. The seat features 50 mm of depth adjustment. Choice of 400 x 400 – 450 mm, 450 x 450 – 500 mm or 500 x 500 – 560 mm
Angle, height, and depth adjustable armrests
Angle height-adjustable headrest
Newly re-designed lift features a lower seat-to-floor height, enabling the user to sit comfortably at a standard table or desk, raises and lowers by using the Air switch or VR2 joystick
Integrated foot platform with rubber insert and 508 mm of adjustment for comfort in both the elevated and non-elevated positions
Single-sided caster forks for enhanced maneuverability
Under-seat front storage compartment keeps your valuables accessible