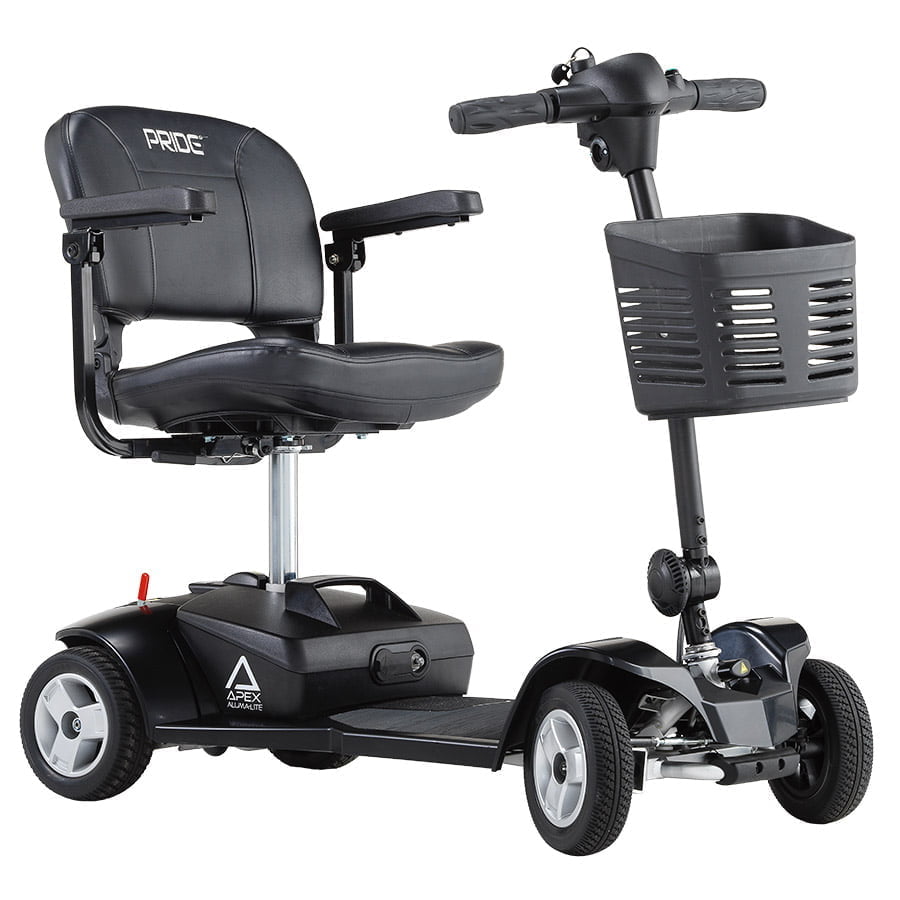 Apex Alumalite
Range up to 18,5 km
Up to 6,5 km/h
28,8 kg
MDR Class I (2017/745/EU) Medical Device
Our lightest 4-wheel mobility scooter yet!
Experience the convenience of a lightweight, compact travel scooter. Easy to put into the trunk, with its heaviest part weighing only 11 kg. The Apex Alumalite, with its aluminum frame, weighs only 28,8 kg in total, making it our lightest four-wheeled scooter yet!
Specifications
Weight capacity
120 kg
Maximum speed
Up to 6,4 km/h
Ground clearance
32 mm
Turning radius
1385 mm
Length
1022 mm
Width
490 mm
Tires
8" solid (Front and rear)
Range per charge
Up to 14,4 km with 120 kg load
Up to 18,5 km with 91 kg load
Total weight without batteries
28,8 kg
Standard seating
Type: Molded Plastic
Weight: 8,5 kg
Material: Black Vinyl
Width: 432 mm
Depth: 432 mm
Batteries
Quantity: 1
Type: Lithium battery
Weight batteries
3,5 kg each
Battery Charger
Dedicated charger
Overview
Download our
product brochure
Download our product brochure here to get an overview of our product range!
Features
Dissassembles into 5 pieces
Airline friendly batteries
Lightweight aluminum frame
8" alloy style wheels
Easy-to-grip tiller adjustment knob