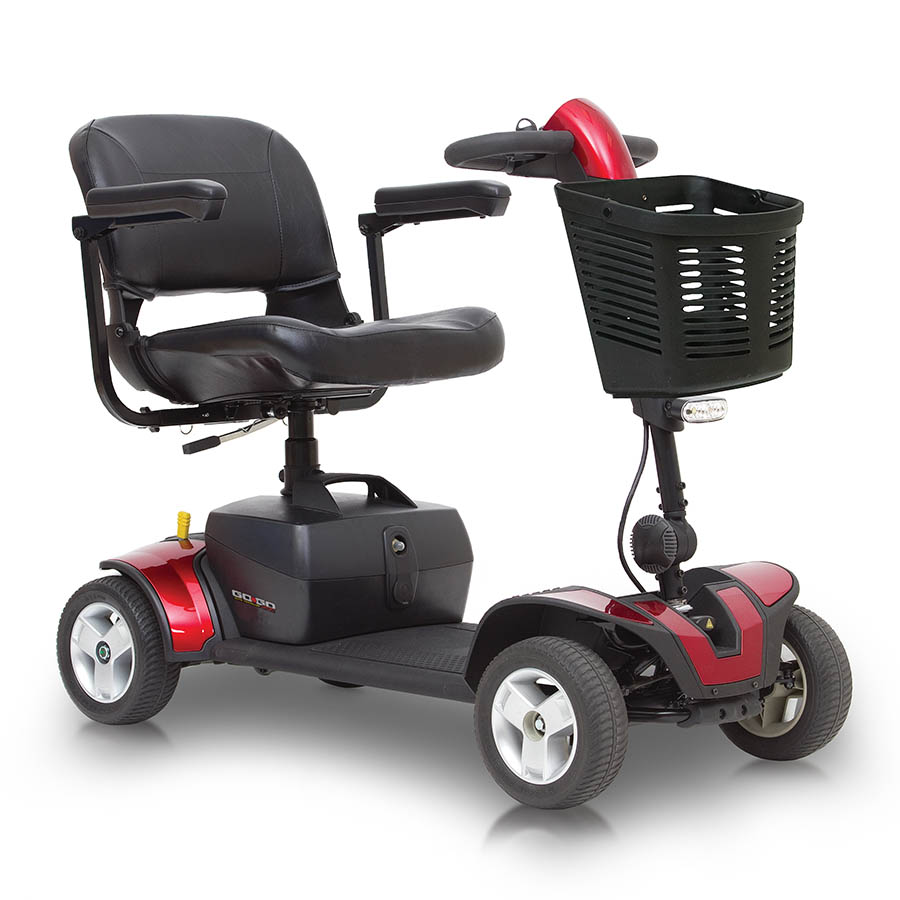 Go Go® Elite Traveller Sport
Range up to 28 km
Up to 6,4 km/h
44 kg
MDR Class I (2017/745/EU) Medical Device
The ultimate high-performance scooter
It's time to make your mark on this world! The Go Go Elite Traveller Sport offers simple disassembly and an ergonomic delta tiller, perfect for one-handed operation. Enjoy the versatility of this sporty scooter, as well as bright LED lighting. The stylish, high-performing Go Go Elite Traveller Sport features an innovative design with a full complement of unique standard features. A charger port conveniently located in the tiller, front and rear LED lighting, 8″ wheels at front and 9" wheels rear, an additional 50 mm deck space, and an increased weight capacity of 147 kg are just a few features that make the Go Go Elite Traveller Sport an exceptional scooter choice.
Why Choose a Go Go Elite Traveller Sport?
Experience unique 4-wheel mobility. From the endless excitement of freedom and independence to exceptional portability, you can imagine your life without limits! Being able to keep up with your active lifestyle and living your best means everything to you, and now with the Go Go Elite Traveller Sport, you can enjoy the versatility of driving a compact mobility scooter that fits your every need. It features ample storage, simple navigation, and is so easy to transfer from your home, into your car, then to your destination.
Offering feather-touch disassembly, the Go Go Elite Traveller Sport is the perfect choice for the adventurer in you! Whether you are travelling close to home, on a trip or to the supermarket, whatever your need is, travel has never been easier! Scooter disassembly is a breeze. Five lightweight pieces break down for fast transport from fully ridable to fitting comfortably into most car trunks.
Let our LED lighting illuminate the path ahead as you trek and navigate into lowlight areas such as walkways within your community, grocery store parking lots and many other routes you may enjoy throughout your day.
Specifications
Weight capacity
147 kg
Maximum speed
6,4 km/h
Ground clearance
76 mm
Turning radius
1283 mm
Length
1092 mm
Width
540 mm
Tires
9" solid
Suspension
Yes, seat post suspension
Range per charge
Up to 28 km
Total weight without batteries
44 kg
Heaviest piece when disassembled(Front section)
20 kg
Standard seating
Type: Folded
Material: Black Vinyl
Width: 432 mm
Depth: 432 mm
Weight: 10,5 kg
Drive System
Rear-wheel drive, sealed transaxle, 24-volt DC motor
Dual Braking System
Regenerative and electromechanical
Batteries
Quantity: 2
Type: Sealed lead-acid, deep cycle
Size: 18 Ah
Battery pack weight
12,5 kg
Overview
Download our
product brochure
Download our product brochure here to get an overview of our product range!
Features
Front and rear LED lighting
Feather-touch disassembly with one hand
Exclusive black, low-profile, non-scuffing tires with new tri-spoke mags
Delta tiller with wraparound handles
147 kg weight capacity
Auto-connecting front to rear cable
Includes 2 sets of easily changeable colored panels – Red & Blue
Front frame-mounted seat post offers maximum stability
Modular design for easy serviceability
Microprocessor-based controller offers optimal power management and added safety features
Front tiller-mounted basket
Charger port conveniently located in the tiller
Suspension seat post