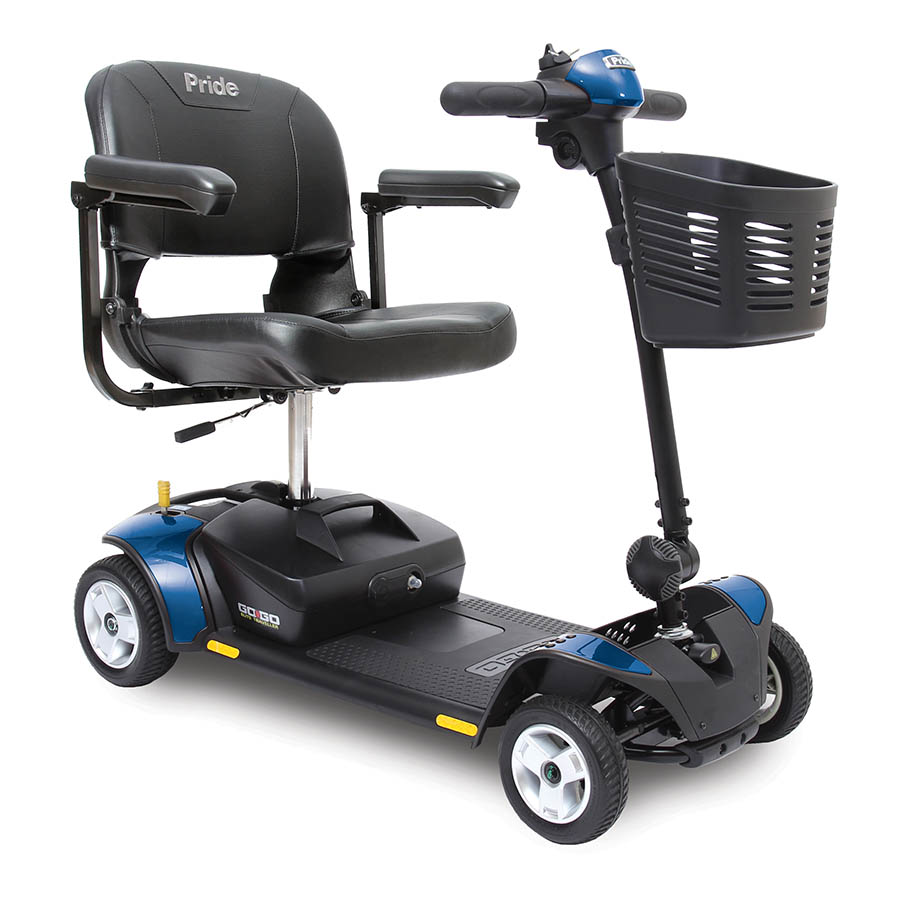 Go Go® Elite Traveller
Range up to 18,3 km
Up to 6,4 km/h
36 kg
MDR Class I (2017/745/EU) Medical Device
The quickest way to travel
Every day is a new adventure with the Go Go® Elite Traveller, an exceptionally stable and maneuverable travel scooter. With easy disassembly and a convenient storage basket, the Go Go® Elite Traveller keeps up with your active life!
Versatility and stability in mobility
You've got a full day ahead of you. Feel confident that the Go Go® Elite Traveller mobility scooter is just as ready as you are. Its stability, versatility and power mean you don't have to limit your destinations or worry about stopping halfway through the day to recharge.
One of the travel mobility scooter market's leading models, the Go Go® Elite Traveller comes packed with all the right features to let you focus more on the journey and less on how you're going to get there.
The Go Go® Elite Traveller mobility scooter includes an ergonomic 432 x 432 mm seat and a spacious deck for your feet and legs. The swivel-mount seat means you just have to sidle up alongside the dinner table and twist. It also makes disembarking so much simpler.
Feather-touch disassembly
When it's time to go, Pride Mobility's exclusive feather-touch, one-hand disassembly design lets you break it down quickly and stow it away for the ride. The heaviest piece weighs only 15,4 kg, which makes it a breeze to load into your trunk or back seat.
With a 135 kg weight capacity, maximum speeds of 6,4 km/h and a range of up to 19 km per charge, your Go Go® Elite Traveller gets you from here to there, and there and however many "theres" you have after that.
Can't decide on the color? No problem. The Go Go® Elite Traveller comes standard with interchangeable red and blue shrouds!
Specifications
Weight capacity
136 kg
Maximum speed
6,4 km/h
Ground clearance
35 mm
Turning radius
3-wheel: 838 mm
4-wheel: 1120 mm
Length
3-wheel: 940 mm
4-wheel: 1003 mm
Overall width
495 mm
Tires
3-wheel: Front: 8"
4-wheel: Front: 7" solid
3- and 4-wheel: Rear: 8" solid
Range per charge
3-wheel: Up to 16,75 km
4-wheel: Up to 15,5 km
Total weight without batteries
3-wheel: 34,25 kg
4-wheel: 36 kg
Heaviest piece when disassembled(Front section)
3-wheel: 13,5 kg
4-wheel: 15,5 kg
Standard seating
Type: Folded
Material: Black Vinyl
Width: 432 mm
Depth: 432 mm
Weight: 10,25 kg
Drive System
Rear-wheel drive, sealed transaxle, 24-volt DC motor
Dual Braking System
Regenerative and electromechanical
Battery Requirements
Quantity: 2
Type: Sealed lead-acid, deep cycle
Size: 12 or 18 Ah
Battery Weight
12 Ah: 8,8 kg
18 Ah: 13,5 kg
Battery charger
2 Amp off-board
Overview
Download our
product brochure
Download our product brochure here to get an overview of our product range!
Features
Feather-touch disassembly permits simple frame separation with only one hand
Includes 2 sets of easily changeable coloured panels in Red & Blue
Front frame-mounted seat post offers maximum stability
Frame design easily disassembles into 4 super lightweight pieces for convenient transport and storage
Modular design for easy serviceability
Microprocessor-based controller offers optimal power management and added safety features
Standard front tiller-mounted basket included
Removable deck basked for additional storage (4-Wheel only)
Convenient off-board dual voltage charger can charge battery pack on-board or off-board