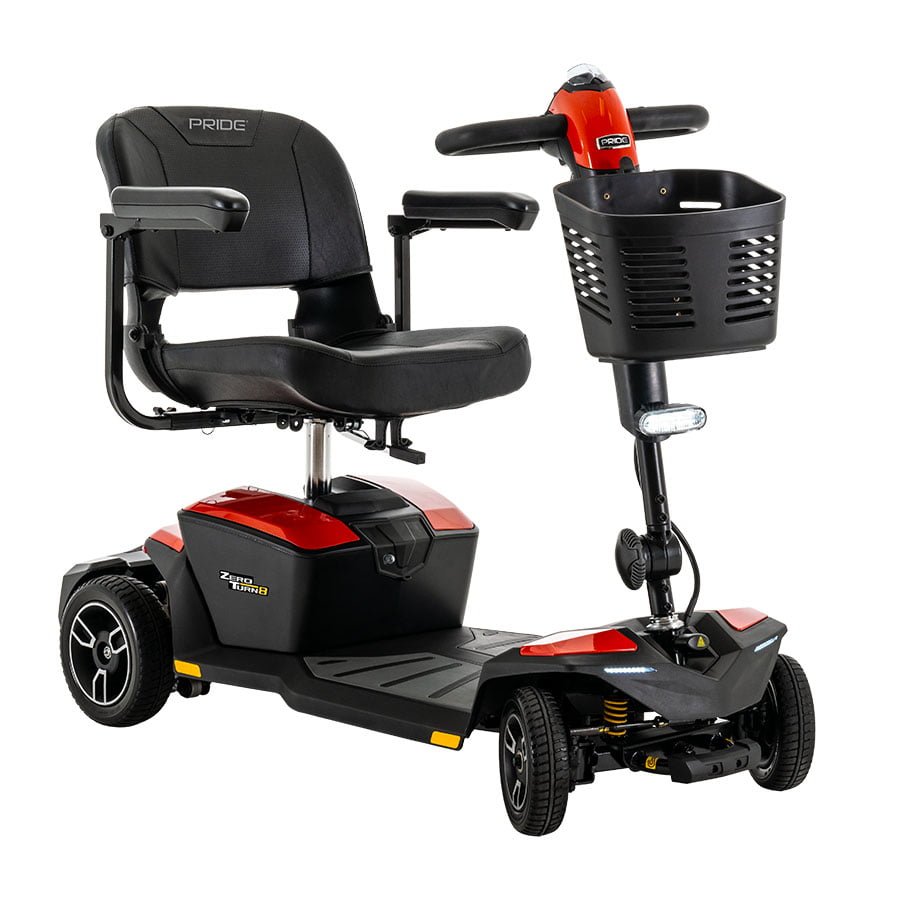 Zero Turn 8
Range up to 21 km
Up to 6,4 km/h
54 kg
MDR Class I (2017/745/EU) Medical Device
Powerful compact mobility scooter built for indoors and out
Your mobility has turned a corner with the Zero Turn 8, an innovative scooter equipped with iTurn Technology™, enabling you to maneuver this scooter through small spaces and around tight corners! Plus, enjoy full lighting, plenty of storage, and a USB charger.
It puts you closer to the things you care about. Search for hidden treasure deep inside the corner bookstore again, where the tight stacks in the back once limited you to the front, which only had the trendy books. Get reacquainted with your favorite cafe nook, where you and your friends love to gather and catch up.
The Zero Turn 8 offers Pride's tightest maneuverability for a four-wheel mobility scooter. With iTurn Technology™, Pride's exclusive zero-turn system, you can turn on a dime with a 946 mm radius. Scoot into the supermarket with confidence that no aisle or produce display will throw you off course. The Pride Zero Turn 8 mobility scooter gives you nimble navigation for weaving through all of it. Much like some riding lawn mowers, the independent rear wheels turn in opposite directions, allowing you to make breathtakingly tight turns in a snap. Live in an apartment? You'll love it because you can turn in the elevator and get around inside your home.
Although the Zero Turn 8 is perfect for use indoor due to the tight turning radius, outdoor it also stands its ground. With the Comfort-Trac Suspension system, it's easy to navigate uneven roads ahead. It's powerful, with speeds up to 6,4 km/h and a 21 km range on a single charge. And, finally, it's practical. With user-friendly features like LED headlights, a USB charging port for your devices, and Pride's unique feather-touch disassembly system, it's ready to go whenever you are.
Specifications
Weight capacity
147 kg
Maximum speed
6,4 km/h
Ground clearance
33 mm
Turning radius
948 mm
Length
1162 mm
Width
525 mm
Tires
Front: 7" solid
Rear: 9" solid
Range per charge
Up to 17,7 km with 147 kg
Up to 21,2 km with 90,7 kg
Total weight without batteries
54 kg
Standard seating
Type: Foldable plastic
Material: Black Vinyl
Width: 432 mm
Depth: 432 mm
Weight: 12 kg
Drive System
24-volt DC motor, rear-wheel drive, two-motor
Batteries
Quantity: 2
Type: Sealed lead-acid, deep cycle
Size: 18 Ah
Battery weight
12,5 kg
Battery Charger
2 Amp off-board
Overview
Download our
product brochure
Download our product brochure here to get an overview of our product range!
Features
147 kg weight capacity
Up to 6,4 km/h
946 mm turning radius
Vinyl compact, foldable, molded plastic seat
Dual motors
Standard front basket
Easy-to-grip tiller adjustment knob
iTurn Technology® provides 4-wheel stability with a 3-wheel turning radius
Feather-touch disassembly easily disassembles into 5 lightweight pieces for transport and storage
The charger port located on the tiller lets you conveniently charge your scooter
Delta Tiller with ergonomic wraparound handles lets you operate the scooter with one hand and rest your wrist
CTS Suspension and dual motors provide a smooth, comfortable ride over varied terrain
USB charging port in the tiller lets you charge your smartphone
Full LED lighting package helps you see where you're going
A standard front basket provides storage
Your choice of six interchangeable color shrouds